Non perdere questo strepitoso video postato su Twitter
#MissionImpossibleFallout #AvvertimiQuandoEsce #TomCruise
arriverà nei nostri cinema a fine agosto, intanto godiamoci un incredibile girato di alcuni clamorosi stunt durante le riprese.
Ecco il video behind the scenes di Mission: Impossible – Fallout
Grip Rigs and camera work on Mission Impossible – Fallout (2018) reposted from @cinematogr #griprigs
• Dir: Christopher McQuarrie
• DP: Rob Hardy #behindthescenes #grip #camerarigs #carrig #rig #gripsupport #griplife #gripdept #cinematography #keygrip pic.twitter.com/HE7Nv3XDht

— Grip Rigs (@griprigs) 16 luglio 2018
Niente male, vero? 😉
vede il ritorno di Ethan Hunt e del suo strepitoso team impegnati in una corsa contro il tempo per sventare le conseguenze del fallimento di una missione.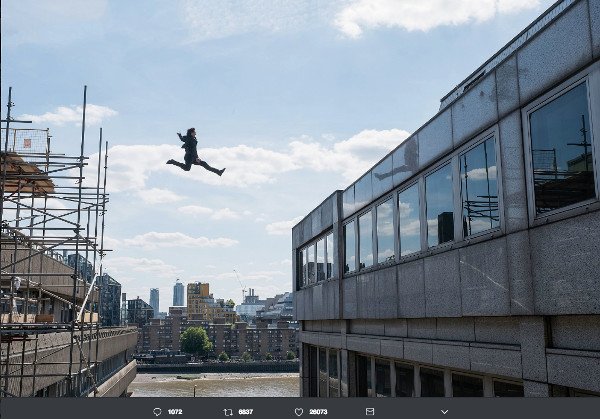 Christopher McQuarrie dirige un cast composto dai veterani della saga Tom Cruise, Rebecca Ferguson, Ving Rhames, Simon Pegg, Alec Baldwin, ai quali si aggiungono Angela Bassett e Henry Cavill.
Utilizza il nostro servizio di Alert, facendo click qui sotto, per scoprire appena il tuo cinema preferito avrà inserito gli orari di in programmazione, così da poter comprare subito il tuo biglietto!